Terraform All-Terrain Belted 1/7, 1/8 Short Course Tires on Switch 17mm Hex (2pcs, not glued)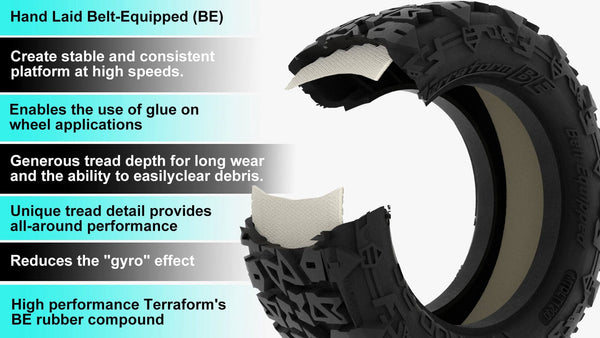 Terraform BE Tire Features:
Hand Laid Belt-Equipped (BE)
    - Nearly eliminates tire expansion creating a stable/consistent platform at high speeds. 
    - Enables the use of glue on wheel applications
    - Less tire expansion greatly reduces the "gyro" effect reducing the overall load on the servo, axles, plastics and hub bearings. 
Tread Design
    - Unique tread detail throughout provides a neutral/all-around performance on an array of surfaces. Aggressive enough for dirt yet poised to tackle the harsh bite of concrete and asphalt alike, the Terraform BE packs a powerful passion for your bashing needs. 
    - Generous tread depth for long wear and the ability to easily clear debris.

Rubber Compound
    - Relentlessly tested through a variety of platforms, the Terraform's BE rubber compound lends itself well to a middle ground of performance and a long wearing compound. We think it's tuned just right for the basher in mind.

What it fits:
- Traxxas UDR. Adaptor available HERE
- Arrma Mojave. Uses included adaptor

Array Wheel Features:
- Injection Molded One Piece Design
- 17mm Hex Size

Tire Specifications:
Tire Diameter: 5.47" (13.98cm)
Tire Width: 2.28" (5.79cm)

Wheel Specifications:
Hex Size: 17mm
Bead Diameter: 3.3" (83mm)
Width: 1.67" (42.5mm)
Center Bore: 0.48" (12.2mm)
Back Spacing: 1.14" (29mm)
Front Spacing: 0.53" (13.5mm)
Offset: +0.30" (+7.75mm)
Total weight of wheel and tire: 212 grams

What's Included:
- Terraform Belted Tires x 2
- Switch Wheel x 2
- Foam Insert x 2
- Stock Injection Molded 17mm Hex

What's Needed:
 - Glue to mount up the tires to the wheels

Overview
     Fifteen years ago, a journey began to develop RC products for the masses. During this time, our customers continued to grow their trust in us and the desire to establish our own brand in the RC Community started to take shape - our capabilities grew in manufacturing and the style of depth of products we wanted to produce.  Several months into 2020, the name Method RC was born. The method of our madness punches performance, quality, durability and a customer focused mindset to bring products that strike joy into the RC journey. Today, we're happy to announce the expansion of our product line with complete Belt-Equipped tires super-tough injection molded wheels for large-scale vehicles.